BLACKLACE
FLAT-COATED RETRIEVERS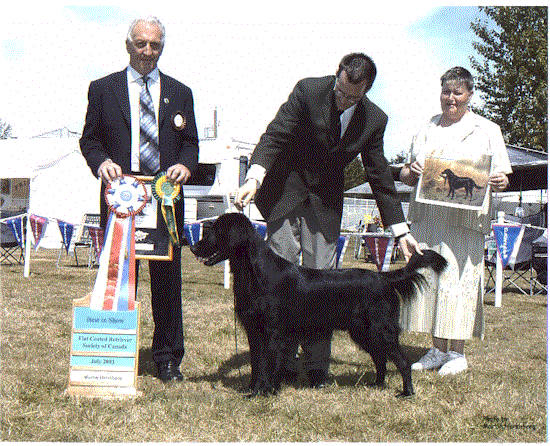 Blacklace Flat-Coated Retrievers proudly presents:
Cdn/Am. Ch. Blacklace Saxon Pride
2003 Canadian National Specialty Winner
Saxon won the top award at the 2003 National Specialty. He was chosen over 120 Flat-Coated Retrievers from Canada and the U.S. by Bob Allen of England. Mr. Allen was highly impressed with the caliber of the Flatties presented to him, but chose my lovely Saxon as "the best Flattie...with a stylish head...on a gorgeous body...with great movement. A great representative of the Flat-Coated Retriever Breed."
It was a great honour to be chosen as National Specialty Winner over some of the top winning dogs in Canada and the U.S., especially by a gentleman who is a 'breeder' judge.
Saxon is owned and loved by Kate and Pete Szilard of Seattle, WA.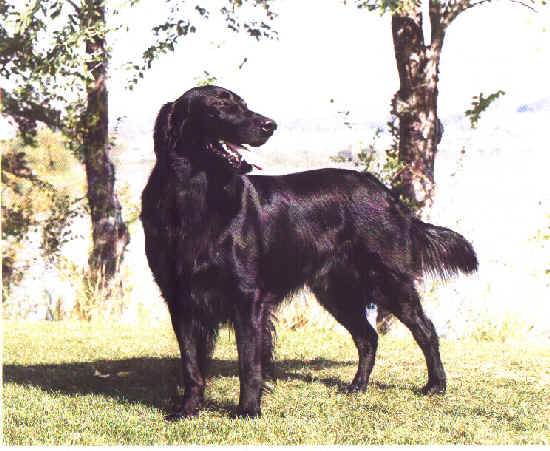 Saxon is out of my lovely Lacey (Cdn/Am. Ch. Avalon Arthurian Blacklace CD and Cdn Cdn/Am. Ch. Parkburn Pacific Pride). Avalon is part of the Applegarth kennels and Parkburn is Moira Jewell's kennel. Moira has been involved with Flatties for over 35 years.
This is the second National Specialty win for BLACKLACE KENNELS. In 1997, Cdn/Am. Ch. Blacklace N'Wood SurfsUpKona won over 140 Flatties!! This lovely dog (Kona) was out of Lacey and another Parkburn dog - Cdn/Am. Ch. Parkburn Lackie.
In the National Specialty held in Lethbridge, Alberta in June 2006, Blacklace Kennels was once again recognized for excellence in breeding. Cdn/Am. Ch. Blacklace Prides Fine Wine - my "Tia" and sister to "Saxon" took Best of Opposite Sex. The judge commented how lovely she was: fabulous movement, grace and style... "A pleasure to have in the ring."
I have been truly blessed by such good friends as Moira Jewell in helping me to select a great foundation bitch and such solid stud dogs.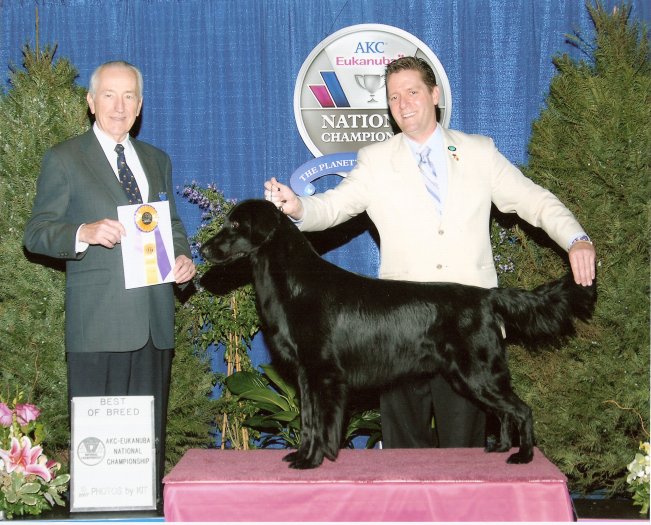 Am/Cdn. Ch. Blacklace Magic Mocha Sapphire AKA "Koby"
Happy, playful, and fun-loving, these are the characteristics of a Flat-Coated Retriever. Add an American and Canadian champion to those characteristics and you'll have Koby, our 4-year-old Flat-Coated Retriever who brings excitement and happiness to us while in and out of the show ring.
Koby became a Canadian champion at the early age of fourteen months and followed that up two months later by getting his American champion title. Since then, Koby has continued to win ribbons of all sizes.
Koby won the Eukanuba Invitational Specialty 2007...and was #2 Flat-Coat in the U.S. and has won multiple Group Placements. He has been ranked on the American Kennel Club/Eukanuba Top 25 in 2005 and 2006 and was the No. 4 Flat-Coated Retriever in Canada in 2005 and 2006. He has won over 45 Best in Breed Honours and in March '07 was featured on Animal Planet while at the Rose City Classic in Portland, Oregon.
In Canada, Koby has been a multi group placing dog...The most spectacular win was winning Group One at the largest show in Canada in October 2007. He also won two other group placings at that show.
He is the third Flat-Coat owned by Ken and Cathy Johnson to come out of the Blacklace family, bred by Kathy Kondrat from St. Ives, in the interior of British Columbia. The two Flat-Coats to precede Koby - Rudy, who passed away in 2005, and Micky - both became American and Canadian champions as well.
Like most Flat-Coats, Koby loves to swim, retrieve, play fetch or just relax by puttting his head on your lap while you watch t.v.
Despite the accolades, Koby keeps a level head and has become a special member of the Johnson family.
Please visit www.blacklacemagic.com to read more about Koby.

Flatties are lovingly referred to as the "Do-It-All" dogs...they love dog shows, obedience, hunting, tracking and agility. One judge remarked to me that he loved this breed because it was the only one that you could have the dog out hunting in the morning and in the show ring in the afternoon with a minimal amount of grooming!
They are also known as the Peter Pan of the dog world for their wonderful sense of humour and the fact that they never grow up!!!
They are awesome family dogs... preferring to be glued to your side rather than on their own. We lovingly refer to them as "velcro dogs"! I usually have one with their head on my lap, another across my feet and snuggled by my side while I watch t.v. They don't make good kennel dogs... they really need human companionship. The affectionate and devoted Flat-Coated Retriever responds well to training but needs regular exercise to stay on its best behaviour.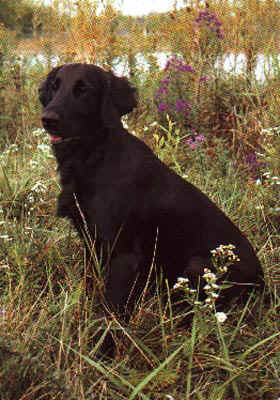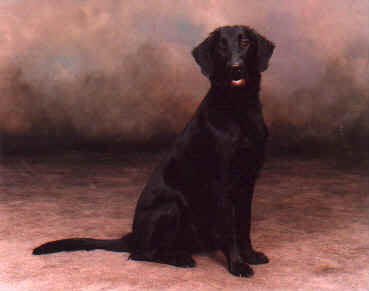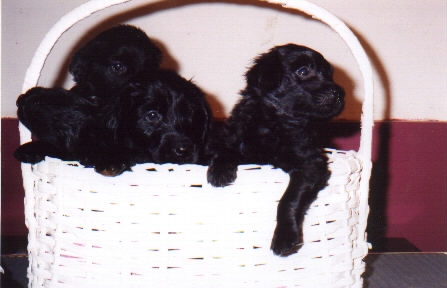 PUPPIES AVAILABLE 2009!!!
Plans for breedings include:
Cdn/Am. Ch. Blacklace In The Sky W'Diamonds (Lucie) breeding to Am/Cdn Ch. Flashback Paint it Black (Mick). Check out his website at www.northernlightsfcr.com Lucie lives in Seattle with Barb and Paul Schwonke.
Blacklace Jazhara (Sitka). Sitka will be bred to Am/Cdn Ch. Blacklace Magic Mocha Sapphire (Koby). Sitka lives with Deb Dubois in Sechelt, BC.
This is the first litter for each of the girls.
For more information on upcoming litters, please contact:
Kathy Kondrat
RR2, S23, C6 Chase, BC V0E 1M0 Ph: 250-679-2785
Email: flat-coat@hotmail.com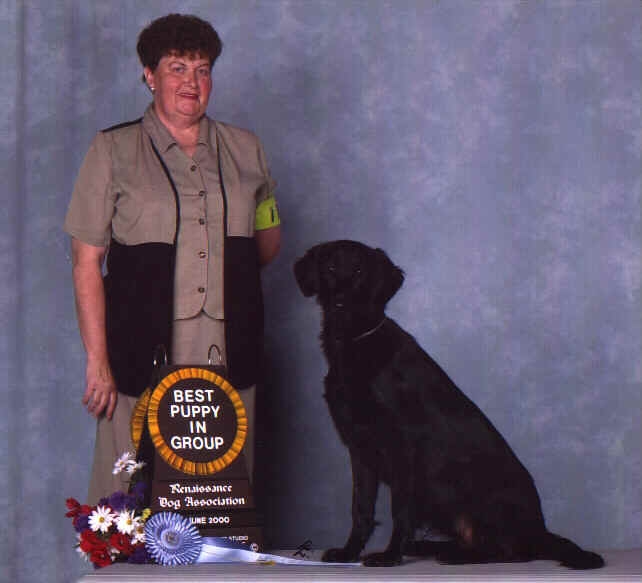 "TIA"
BLACKLACE FLAT-COATED RETRIEVERS

RR2, S23, C6

Chase, BC, Canada V0E 1M0

Ph: 250-679-2785

Owner: Kathy Kondrat

email: flat-coat@hotmail.com